Pakistan could be next in line to eradicate Polio, says the World Health Organization's (WHO) country director while addressing the audience at Islamabad, on the eve of World Polio Day.
While the news is indeed very welcoming, it arises a Question; why did Pakistan fail to address the Polio crisis when its neighbor India, and countless underdeveloped African countries were able to beat the virus. Well, the answer to this is quite complex just as the task is.
Understanding why Pakistan is behind in its' fight to eradicate Polio, it's important to understand a large territory of Pakistan lived in regions where the government had little to no control. It was impossible for the country's LEA or Law Enforcement Agencies to provide ample security to ensure Polio workers can reach and deliver their duties.
How much has changed, and what the issues are, lets find out:
Military Operations after 9/11 and its Impact on Polio eradication:
The Pakistan Army conducted countless military operations in the lawless ex-FATA or Tribal regions. These regions had a close connection with Afghanistan as they are located on the Border. While the Pakistan Army was able to suppress and gain hold of its' territory; a lot of time was wasted included precious human lives.
While, today without any doubts, Pakistan has installed its' writ of the government in these regions', however, it has not been able to change the mindset of its people. Perhaps, it is again the failure of government and civil society to educate people as to what the Poliovirus is, and why a simple vaccine can save their child from a disabled life.
During the time of insurgency, the Taliban and some Al-Qaeda elements simply banned the vaccine for the local kids. Their massive propaganda against the Polio vaccine spread in different corners of Pakistan. While authorities did seize their "tap-ed" audio messages from going to distant corners of the country however it still managed to cause some damage.
Target Killings:
In Pakistan, being a Polio health-worker means you are fighting a war with the Polio vaccine box as your weapon. It's a matter of life and death and over 142* polio workers have died so far. This is largely because some anti-Polio elements have become super aggressive towards the Government that they have resorted to violence.
Furthermore, during the Bin Laden raid, the intelligence of Osama Bin Laden residing within Pakistan was gathered with the help of a Polio worker who installed a hidden camera within his Bag and recorded Bin Laden's presence. While Pro-Osama Bin Laden elements are extremely less in Pakistan, however, this caused mistrust within the community regarding Polio workers.
Massive anti-Polio fake news:
I remember, not long ago, I was able to travel to a distant remote village in Pakistan. After talking with the locals, one elder of the community asked me If I was with the Polio eradication team or not. My answer was an obvious "No!". He uttered: "well, good! Now you're our honored guest!" I was baffled as to what exactly happened and didn't hesitate to question. Their reply was simple: "Polio vaccine does more damage to our kids, it will make them non-fertile, and is an American vaccine designed to make our kids weak."
I don't blame him.
Such fake news is simple very common in Pakistan. People think the Polio vaccine is dangerous, and such people aren't always the ones who live in remote villages. They are found in every corner and city of Pakistan. Pakistan has to educate its people against the dangers of the Polio vaccine.
With Apps like TikTok becoming more popular in the country, my recommendation will always be to ensure all Opinion leaders are encouraged to promote content that may help the viewers change their minds. There is just so much that can be done however it seems the Government is non-serious. We see a handful of adverts with poor visual taste and information regarding the Polio vaccine that too once or twice a year.
Where Pakistan stands:
COVID-19 has made the task from worse to impossible. Over 80 million children missed their vaccination due to COVID-19 led lockdown in the country. Adding to this, currently, there are 36 active cases of Polio in Pakistan.
While the challenge is immense, the good news is that Pakistan is also fighting back by using its massive Human Resource for its benefit. Over 260,000 workers are currently working to go "door-to-door" and vaccinate kids under 7 years of age. Despite the country having poor infrastructure, the Polio workers still manage to reach their destination.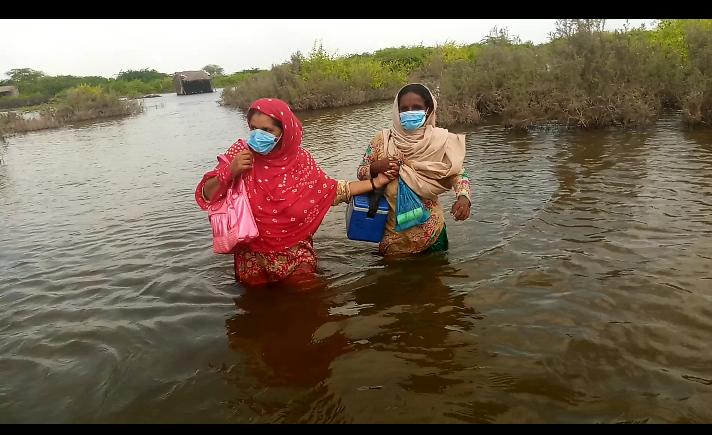 The social media of Pakistan often recognizes their hard work, and there have been plenty of instances where Netizens praised their hard work.
As, 25th of October is International Polio Day; while the majority of the world does not have to care for it, the story is different here. We have to use this opportunity to further spread the message. The WHO's country director recognized Pakistan's hard work despite all the given challenges, and his statement of Pakistan becoming the next country to be "Polio-free" is a breath of fresh air for many.
However, the task is still not simple. Plenty of issues remain.
Firstly, Pakistan has to increase its available man-power and present logistical support. Secondly, it has to ensure the Military supports the program by providing ample security to the workers, and other logistical support. Lastly, the government has to re-brand Polio vaccination. It has to learn from existing case-studies, use this as an opportunity, and make the best possible use of Social Media for spreading the message.